Product Description
Hot sale: low noise,no leakage, no additional cost for magnetic coupled pump magnetically coupled pump marine shaft coupling
Introduction of magnetic coupled pump magnetically coupled pump marine shaft coupling
Magnetic shaft coupling is a new kind of coupling, which connects motor and machine by permanent magnetic force. 
They are consisted of external rotor, internal rotor and isolating covers.
They work in the sealed magnetic drive pumps, which transporting volatile, flammable, explosive and toxic solutions with no leakage. 
These magnetic shaft couplings can be used to connect gear pumps , screw pumps, centrifugal pumps, etc. with all types of electric motor or gear box. 
Magnetic shaft coupling are widely used in various industries and fields, such as chemical, papermaking, foodstuff, pharmacy, and so on. 
Advantages of magnetic coupled pump magnetically coupled pump marine shaft coupling
» Elimination of fluid leakage from the pump shaft.
» Vibrations are not transmitted to the pump.
» No maintenance required for magnetic couplings.
» Using magnetic couplings allows use of standard pumps without expensive mechanical seals.
» No additional cost for purchasing mechanical seal spare parts and maintenance.
Technical drawing of magnetic coupled pump magnetically coupled pump marine shaft coupling
Specification of magnetic coupled pump magnetically coupled pump marine shaft coupling
Item
Internal Rotor(mm)
External Rotor(mm)
Isolating Covering(mm)
A
B
C
D
E
F
G
Shaft Pin
H
I
J
L
N
M
P
Q
R
S
T
U
GME03-3LM00
Φ35
–
Φ10
26
–
18
–
M6X12
Φ42
Φ60
Φ50
46
6-M4
Φ40
Φ50
4-Φ5.4
Φ38
Φ60
6
6
GME03-5MM00
Φ42
–
Φ12
27
4
18
13.8
M6X16
Φ49
Φ72
Φ60
46
4-Φ6.7
Φ52
Φ60
4-Φ6.7
Φ44
Φ74
8
8
GME03-16LM00
Φ56
–
Φ12
45
4
25
13.8
M6X16
Φ63
Φ89
Φ80
75
6-M5
Φ70
Φ75
4-Φ6.7
Φ58
Φ89
8
8
GME03-16LM01
Φ56
–
Φ12
45
4
25
13.8
M6X16
Φ63
Φ89
Φ80
75
4-M5
Φ70
Φ75
4-Φ6.7
Φ58
Φ89
6
10
GME03-16MM00
Φ56
–
Φ12
45
4
25
13.8
M6X16
Φ63
Φ89
Φ80
75
6-M5
Φ70
Φ75
4-Φ6.7
Φ58
Φ89
8
8
GME03-22LM00
Φ88
–
Φ20
29
6
25
22.8
M8X20
Φ97
Φ122
Φ110
70
8-M6
Φ98
Φ108
6-Φ6.7
Φ91
Φ122
8
8
GME03-30LM00
Φ88
–
Φ20
48
6
30
22.8
M8X20
Φ97
Φ122
Φ110
81
8-M6
Φ98
Φ108
6-Φ6.7
Φ91
Φ122
8
8
GME03-40LM00
Φ101
–
Φ25
49
8
28
28.3
M10X20
Φ109
Φ140
Φ124
83
8-M8
Φ110
Φ126
8-Φ6.7
Φ103
Φ140
12
6
GME03-50LM00
Φ107
–
Φ20
70
6
30
22.8
M6X16
Φ113.4
Φ145
Φ135
80
4-M6
Φ126
Φ133
12-Φ8.7
Φ109
Φ153
12
15
GME03-65LM00
Φ101
–
Φ25
77
8
45
28.3
M10X20
Φ109
Φ140
Φ124
111
8-M8
Φ110
Φ126
8-Φ6.7
Φ103
Φ140
12
6
GME03-80LM00
Φ106
–
Φ32
65
10
21
36.5
M6X25
Φ115
Φ145
Φ135
82
4-M6
Φ127
Φ135
6-Φ8.7
Φ110
Φ153
13
18
GME03-80LM00
Φ141
Φ92
Φ40
65
12
45
43.3
M12X25
Φ152
Φ180
Φ168
100
8-M8
Φ154
Φ164
8-Φ6.7
Φ145
Φ180
12
8
GME03-100LM00
Φ131
Φ82
Φ32
80
10
24.5
35.3
M8X35
Φ139
Φ170
Φ160
100
4-M6
Φ152
Φ158
8-Φ8.7
Φ133
Φ178
14
21
GME03-110LH00
Φ141
Φ92
Φ40
85
10
50
43.3
M12X25
Φ152
Φ184
Φ168
115
12-M8
Φ156
Φ164
12-Φ6.7
Φ145
Φ180
12
3
GME03-110LM00
Φ141
Φ92
Φ35
80
10
55
38.3
M12X25
Φ152
Φ180
Φ168
115
12-M8
Φ154
Φ164
12-Φ6.7
Φ145
Φ180
12
3
GME03-140LM00
Φ141
Φ92
Φ40
110
12
80
43.3
M12X25
Φ152
Φ190
Φ170
145
12-M10
Φ154
Φ164
12-Φ6.7
Φ145
Φ180
12
3
GME03-180LM00
Φ141
Φ92
Φ40
140
12
95
43.3
M12X25
Φ152
Φ190
Φ170
175
12-M10
Φ154
Φ164
12-Φ6.7
Φ145
Φ180
12
3
GME03-220LM00
Φ141
Φ92
Φ48
160
14
110
51.8
M12X25
Φ152
Φ190
Φ170
195
12-M10
Φ154
Φ164
12-Φ6.7
Φ145
Φ180
12
3
GME03-300LM00
Φ162
–
Φ65
100
18
60
69.4
 
Φ170
Φ198
Φ188
123
12-M6
Φ180
Φ192
12-Φ11
Φ163.5
Φ218
16
10
GME03-400LH00
Φ195
–
Φ70
127
20
107
79.9
M12X25
Φ203
Φ234
Φ222
152
6-M6
Φ212
Φ164
12-Φ11
Φ198
Φ278
16
22
Application of magnetic coupled pump magnetically coupled pump marine shaft coupling
The ability to hermetically separate 2 areas whilst continuing to transmit mechanical power from one to the other makes these couplings ideal for applications where prevention of cross contamination is essential. For instance: hydraulic sectors, dosing systems, compressors, sterilizers, industrial ovens, biotechnology, subsea equipment, pharmaceutical industry, chemical industry, food industry, generators and mixers.
Operation principles of magnetic coupled pump magnetically coupled pump marine shaft coupling
The magnetic coupling works by using the power generated by permanent magnets. No external power supply is needed. These are permanent magnets not electro magnets.
Packing Method of magnetic coupled pump magnetically coupled pump marine shaft coupling
Double strength corrugated Carton and Wood case Sea Packing.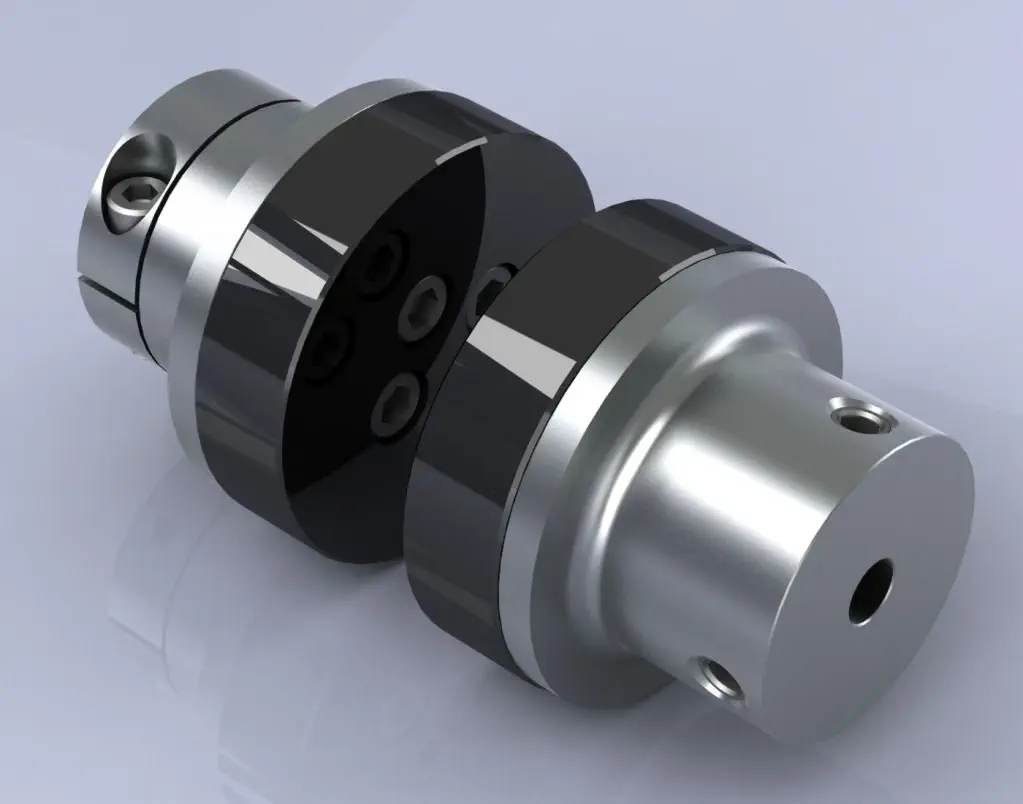 Are there any Safety Considerations or Guidelines for Using Magnetic Couplings in Hazardous Environments?
Yes, when using magnetic couplings in hazardous environments, there are several safety considerations and guidelines that should be followed to ensure the safety of personnel and equipment. Hazardous environments may involve flammable, explosive, or corrosive substances, and it's crucial to address potential risks. Here are the safety considerations and guidelines:
Material Selection:

Choose magnetic couplings constructed from materials that are compatible with the hazardous substances present in the environment. For example, some chemicals may be corrosive, so the coupling's materials must resist corrosion to maintain integrity.

Sealing:

Ensure that the magnetic coupling provides a hermetic seal to prevent fluid leakage and the release of hazardous substances into the environment. The containment shell should be designed to withstand the pressures and temperatures of the specific application.

Explosion-Proof:

In environments where flammable or explosive substances are present, consider using explosion-proof magnetic couplings. These couplings are designed to prevent the ignition of flammable gases or vapors in the event of a fault.

Compliance with Regulations:

Ensure that the magnetic coupling meets all relevant safety and industry standards for hazardous environments. Compliance with regulations, such as ATEX or IECEx, is essential to ensure the coupling's suitability for use in specific hazardous locations.

Environmental Conditions:

Evaluate the environmental conditions of the hazardous area, including temperature, pressure, and chemical exposure. The magnetic coupling should be rated and designed to withstand the specific conditions of the environment.

Grounding:

Properly ground the magnetic coupling and the associated equipment to dissipate any static charges and prevent sparks that could ignite flammable substances.

Installation and Maintenance:

Follow the manufacturer's recommended installation and maintenance procedures to ensure the magnetic coupling functions correctly in the hazardous environment. Regular inspections and maintenance are essential to identify and address any potential issues.

Training and Awareness:

Provide training to personnel working in the hazardous area about the risks associated with magnetic couplings and the proper procedures to follow in case of any abnormalities or emergencies.
It is crucial to consult with experts or engineers experienced in hazardous environments to ensure that the magnetic coupling is appropriately selected and installed for the specific application. Following these safety considerations and guidelines will help mitigate risks and ensure safe operation in hazardous environments.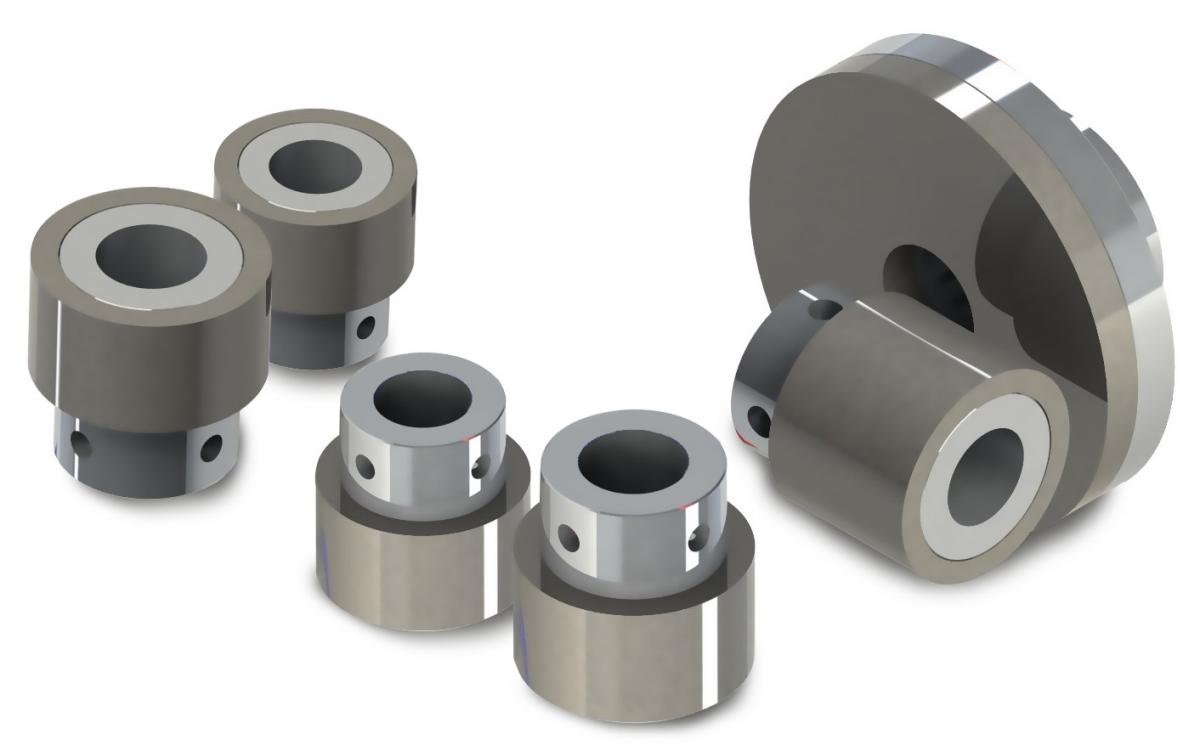 What are Some Real-World Examples of Successful Magnetic Coupling Implementations in Different Industries?
Magnetic couplings have found successful implementations in various industries, offering reliable and efficient solutions for a wide range of applications. Here are some real-world examples of their successful use:
Chemical and Petrochemical Industry:

In chemical and petrochemical processes, magnetic couplings are employed in pumps and agitators to prevent fluid leakage and ensure a hermetically sealed system. This eliminates the risk of hazardous chemicals escaping into the environment and protects the integrity of the process.

Pharmaceutical Industry:

In pharmaceutical manufacturing, magnetic couplings are used in mixers and reactors. The hermetically sealed design prevents contamination and allows for sterile operation, ensuring the highest level of product purity and quality.

Food and Beverage Industry:

Magnetic couplings are used in pumps and mixers for food and beverage processing. The hermetic sealing feature ensures that there is no product contamination, meeting stringent food safety standards and maintaining the integrity of the processed food and beverages.

Automotive Industry:

In automotive applications, magnetic couplings find use in cooling systems and turbochargers. Their high efficiency and reliability improve engine performance, and their non-contact design eliminates the need for lubrication, reducing maintenance requirements.

Renewable Energy:

In wind turbines, magnetic couplings are used to transmit power from the turbine rotor to the generator. The maintenance-free operation and reliable power transmission make magnetic couplings a valuable component in wind turbine systems.

Aerospace Industry:

Magnetic couplings are used in aerospace applications, such as aircraft fuel systems. Their leak-free design and tolerance to misalignment make them suitable for critical aerospace applications where safety and reliability are paramount.

Marine Industry:

In marine applications, magnetic couplings are utilized in pumps and propulsion systems. Their ability to handle high torque and maintain efficiency at various speeds makes them suitable for different marine vessels and offshore platforms.

Mining and Minerals:

Magnetic couplings are employed in mining equipment, such as slurry pumps. Their robust construction and tolerance to abrasive materials enhance the reliability and longevity of the mining equipment in harsh operating conditions.
These real-world examples demonstrate the versatility and effectiveness of magnetic couplings across multiple industries. Their ability to provide hermetic sealing, prevent fluid leakage, and offer reliable power transmission without mechanical wear makes them a valuable solution in critical systems where efficiency, safety, and reduced maintenance are essential considerations.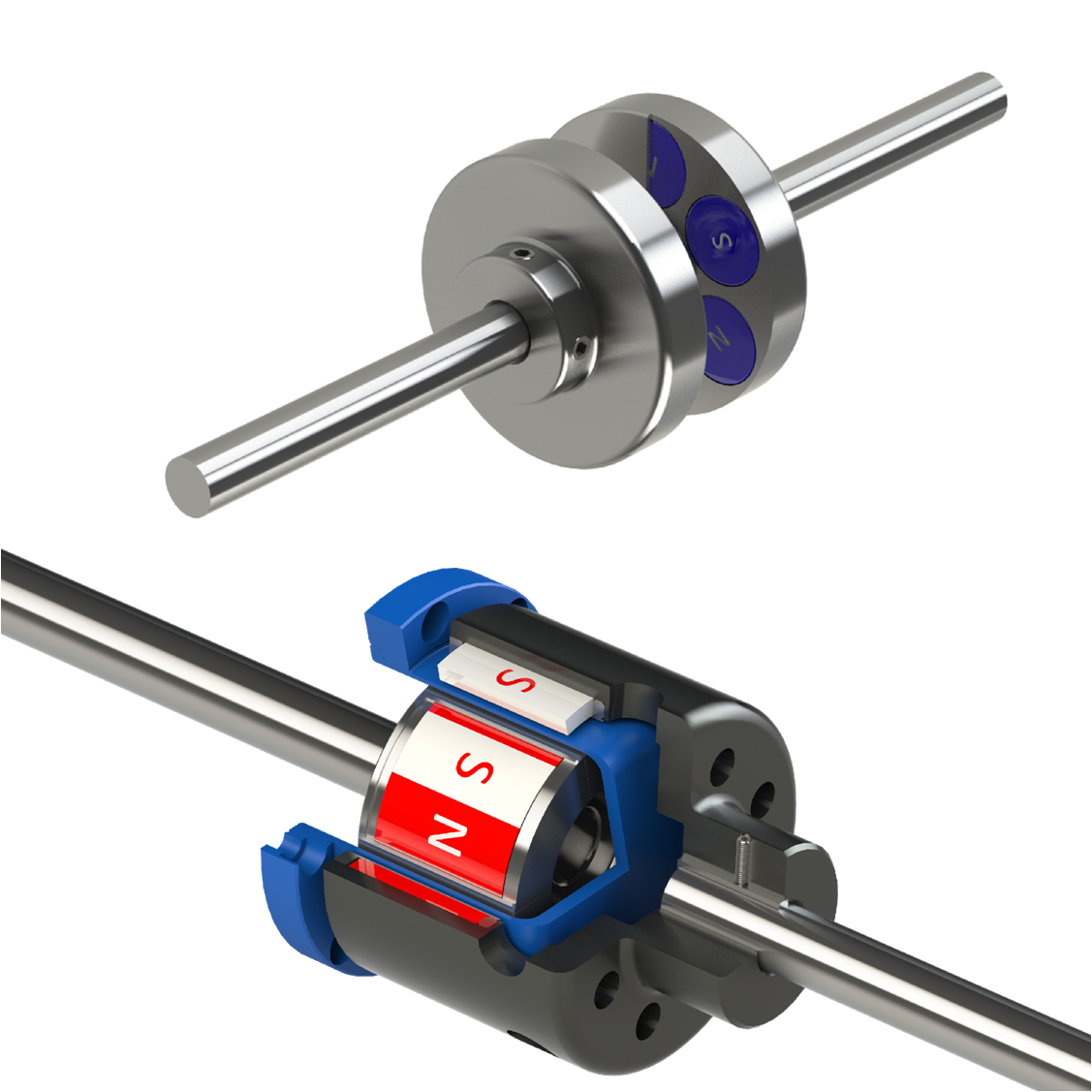 What is a Magnetic Coupling and How Does It Function in Mechanical Power Transmission?
A magnetic coupling is a type of coupling used in mechanical power transmission systems to transfer torque from one shaft to another without direct physical contact. It operates based on the principles of magnetism and is designed to transmit rotational power while allowing a degree of misalignment and isolation between the input and output shafts.
The basic components of a magnetic coupling typically include an outer and inner rotor, both containing permanent magnets. The outer rotor is connected to the input shaft, while the inner rotor is connected to the output shaft. These rotors are separated by a non-magnetic containment shell, creating a magnetic air gap between them.
When the input shaft rotates, the magnets on the outer rotor create a magnetic field that passes through the containment shell and induces a corresponding magnetic field in the inner rotor. The interaction between these magnetic fields causes the inner rotor to rotate synchronously with the outer rotor, effectively transferring torque from one shaft to the other.
The key features and functions of magnetic couplings in mechanical power transmission are as follows:
Non-Contact Power Transmission:

Unlike traditional mechanical couplings that require physical contact between components, a magnetic coupling achieves torque transmission through magnetic fields, enabling a non-contact power transfer.

Misalignment Compensation:

The magnetic coupling can accommodate a certain amount of misalignment between the input and output shafts. This feature helps prevent excessive forces and wear on the system, improving its overall reliability.

Isolation and Containment:

The containment shell between the rotors isolates the input and output shafts, making the magnetic coupling ideal for applications where fluid or gas containment is critical. It allows for hermetically sealed connections in pumps, mixers, and other equipment.

Overload Protection:

In case of sudden overload or jamming in the driven system, the magnetic coupling can slip or disengage, protecting the driving motor and components from damage.

No Lubrication Requirements:

Since there is no physical contact, magnetic couplings do not require lubrication, reducing maintenance needs and the risk of contamination in sensitive applications.

No Wear or Friction:

The absence of mechanical contact eliminates wear and friction between the coupling's components, leading to a longer service life and higher efficiency.
Magnetic couplings find applications in various industries, such as chemical processing, food and beverage, medical devices, and pumps, where leakage prevention, cleanliness, and reliability are essential.



editor by CX 2023-11-16